Our Process
"Design and manufacture the highest quality jewellery possible" is what our founder Daniel Joines told the team. "Its got to last a lifetime, look amazing, future proofed and be extremely good value" he went on to say. "Every piece of jewellery tells a unique story be it an engagement, wedding, anniversary or special gift and that story needs to be spectacular, inspiring and memorable - much like Polished Diamonds". With that in mind the engineers and craftsman at Polished Diamonds developed a unique way to produce the worlds most accurate jewellery.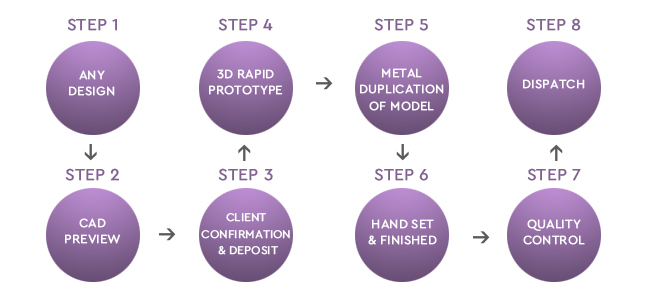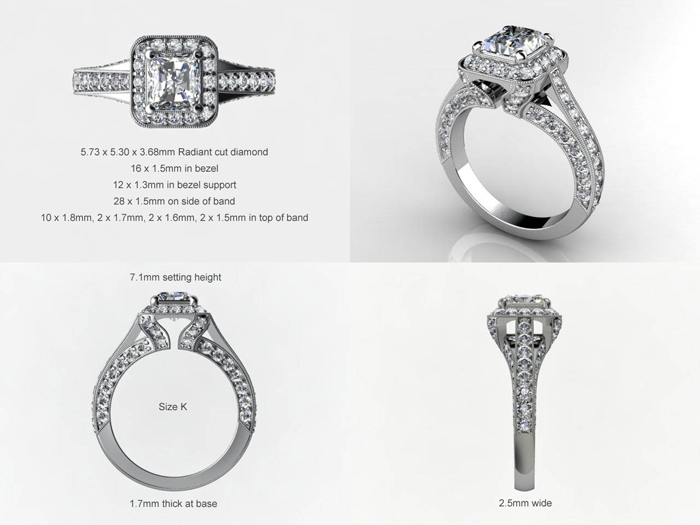 CAD Design Preview
Clients can choose any ring or jewellery style either from our collection or simply email us a photo of what you like. Once a design is selected the team at Polished Diamonds use Computer Aided Design or CAD to draw the design on our design computers. We use the clients actual finger size and the diamond measurements to proportion the design to suit your budget and how you would like the ring to look. Our design team check the aesthetics, ability to future proof and add wedding and other rings, functionality, durability and ensure the diamond or gemstone can sparkle and sparkle across the room. We email this design to clients to preview and they can ask us to make adjustments to suit. The CAD design image confirms proportions, balance and harmony - once approved by the client we are ready to produce. To the right is an example of our CAD design modelling: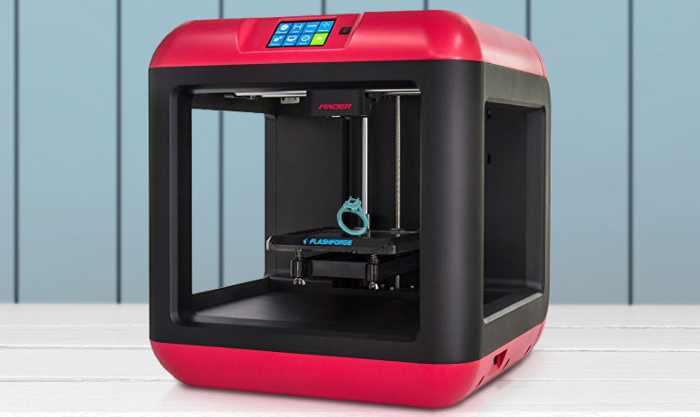 3D Rapid Prototype
It is impossible for a bench jeweller to produce a diamond ring with perfect symmetry purely by hand. Thanks to technology it is possible to produce a diamond ring using Computer Aided Design and Rapid Prototyping using a 3D printer. For over a decade Polished Diamonds have used 3D printers to grow symmetrically perfect and exact models of the CAD file you see above. This process ensures a level of accuracy not possible by any other means and enables our expert goldsmiths to set the exact diamonds and gemstones efficiently because each ring is calibrated to take the exact gemstones so no pushing or pulling to fit is required. This genius results in lower costs which are passed onto clients but more important it enables a level of quality and precision fitting for our unique customer base. We have awards for our business process and we are very proud to be able to offer the very best. Below is an example of 3D printing.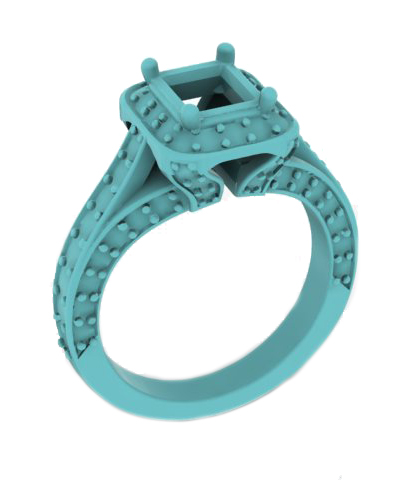 Metal Duplictaion
Once the wax polymer 3D printed model is invested into Platinum, White, Yellow or Rose Gold we have a symmetrically perfect ring to be hand finished. Our traditional bench jewellers will polish the ring to a flawless shine and then forward to our diamond setter to hand set each precious gem stone into position. The ring or jewellery item is then polished again to show room finish and completion.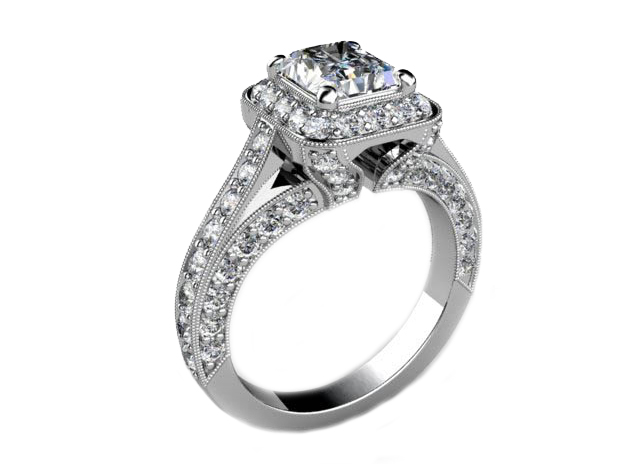 Quality Control
Each unique and special piece is expertly checked in the workshop for any flaws or inconsistencies including x-ray scans to ensure the standard that Mr Daniel Joines has set is achieved and his personal lifetime guarantee can then be applied to every jewellery item. Your item is then delivered to the outlet store ready for collection or dispatch and again a further quality control check is made by the store manager. A final and independent quality control check can be made by an external registered jewellery valuer at the clients expense. This external audit is often required for insurance purposes and we find the increase in value on the paid price vs. the replacement is significantly higher.
Dispatch
Each diamond ring or jewellery item is therefore custom made to suit each special customer. The process takes about 10-15 days although we can sometimes shorten this for urgent orders. The use of modern technology like CAD and 3D printing combined with laser welding and traditional workmanship enables Polished Diamonds to offer a level of product and quality that cannot be matched by our competition.
Combined with GIA certified diamonds and AA rated gemstones like Ruby, Sapphire and Emerald we can issue a lifetime guarantee and complete satisfaction.